SEAVEIW CIRCLE, KNOTS LANDING, CA.
WHERE IS THE CUL-DE-SAC ANYWAY & HOW WAS IT DISCOVERED:
The cul-de-sac made so popular in Knots Landing is situated in Granada Hills, California which it appears is nowhere near the ocean. From Los Angeles one would take the 5N to 118W and exit at Balboa. Right on Balboa one would pass The Knollwood Country Club Estates on the way to Crystalaire Place aka Seaview Circle.
It is much smaller than it appeared on Knots Landing and the houses used in the series are pretty much the same apart from a paint job or two. The original owners were paid handsomely for the use of their homes and were expected to stay out of site at time of shootings but never actually had to move as Knots was never really filmed inside their homes.
According to one of the home owners the cul-de-sac was discovered while one of the production managers for Lorimar was playing cards with someone associated with Knots Landing pilot who mentioned they needed a neighbourhood to set the pilot in. The discussion came to the production manager's own home and that's the one they used for Val and Gary's house and thus the Knots Landing cul-de-sac was born.
Lotus Point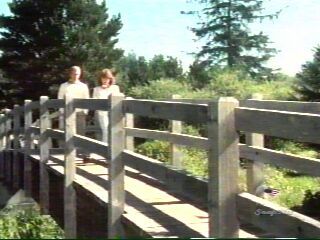 Lotus Point was a business company where Abby and Gary Ewing and Karen MacKenzie were equal partners, never equal in decision-making however. Abby always put dollars and cents first only to be brought down by the all rightious Karen. That left Gary in nutural most of the time.
Lotus Point was filmed at the Salishan Spa and Golf Course
Westfork Ranch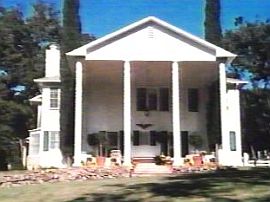 Gary's ranch was a beautiful place filled with familiar faces as well us uninvited guests and sex, horses, accidents, fist fights and sex, death and funerals and sex and of course we loved it all. So did Gary and Abby and Cathy and Jill and Valene. Why the list of ladies Gary romanced at the ranch would just become endless had he not finally tired of it and decided to sell it.
The actual location of the Ranch is Hidden Valley Road at the limit between Thousand Oaks and Westlake Village
In the show the partly fictional address was noted as:
1464 Hidden Valley Road
Rancho Knots Landing, CA 90745
Sumner Ranch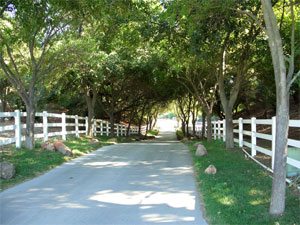 During the run of the series this was located in Hidden Valley but for the reunion movie Back to the Cu-de-sac the location was changed to Saddlerock Ranch, Malibu Canyon.
Contact Us!
Thank you for visiting Knots Landing.net. If you have any questions or comments, please visit our contact form.